What would anti-austerity in Canada look like? There are really two types of questions here. There are those of analysis: what has Canada's austerity looked like, what makes it distinctive and how does it appear in people's everyday experience? The others are those of political strategy. These are questions that will have to wait for a social, political force ready to meaningfully take up the cause of anti-austerity. With none on the immediate horizon, I don't intend to pontificate on what Syriza can teach Canada; best look first at what we can learn of our own situation.
When I interviewed him last week, Yanis Varousfakis, now the Finance Minister of Greece, laid out three very general planks of Syriza's anti-austerity program. Of course, Greece is the unenviable victim of the cruelest austerity experiment in the North, but simplified to their most basic form the three planks articulated by Yanis have broad applicability. To paraphrase, they are
dealing with debt;
increasing social spending;
generating public revenue.
Anti-austerity in such an utterly simplified form is the better starting point for relevance to the Canadian context than concrete political strategy. To start from the list above is very different from the question of the lessons that the political experiment that is Syriza offers Canada. Mine is a far more modest question – one that can be asked regardless of the (truthfully, sorry) state of any popular alternative to the neoliberal consensus.
The fundamental differences that anyone building an anti-austerity (program? movement? idea?) for Canada has to face is that Canada's austerity has been on a relatively smaller scale. At the same time, Canada does not face the same constraints on its fiscal and monetary policy as countries like Greece or Spain and it has been the continued beneficiary of housing and commodity booms – one of which has only just recently ground to an abrupt halt.
Canada's is best described as a creeping, slow-motion austerity. Stephen Gordon actually nicely diagnosed what this has looked like most recently (since about 2010): "…holding nominal spending constant means continued austerity: the costs of delivering a given set of public services increases more or less in line with GDP. The only way to reconcile rising costs with constant spending is to make cuts." Austerity in Canada is, despite the small burst of stimulus in the immediate aftermath of the crisis, a background assumption not just for the Conservatives, but for all political forces, including those of social democracy.
There is no non-marginal political force in Canada that can at this time clearly articulate an anti-austerity vision. Nevertheless, taking Yanis's three-part division, here is a broad outline of where to base a possible anti-austerity in Canadian garb.
(1) Dealing with debt
Canada's public debt is neither as large as that of the crisis countries nor subject to the same (EU-imposed) political constraints. In spite of this, the climate of public debt panic is familiar and can be rapidly activated to discredit anti-austerian ideas. While such debt panic wrongly compares the government to a household and makes debt repayment a universal priority, households themselves are increasingly indebted. Indeed, but for a small hiccup, Canada's household debt hasn't slowed growing since the financial crisis.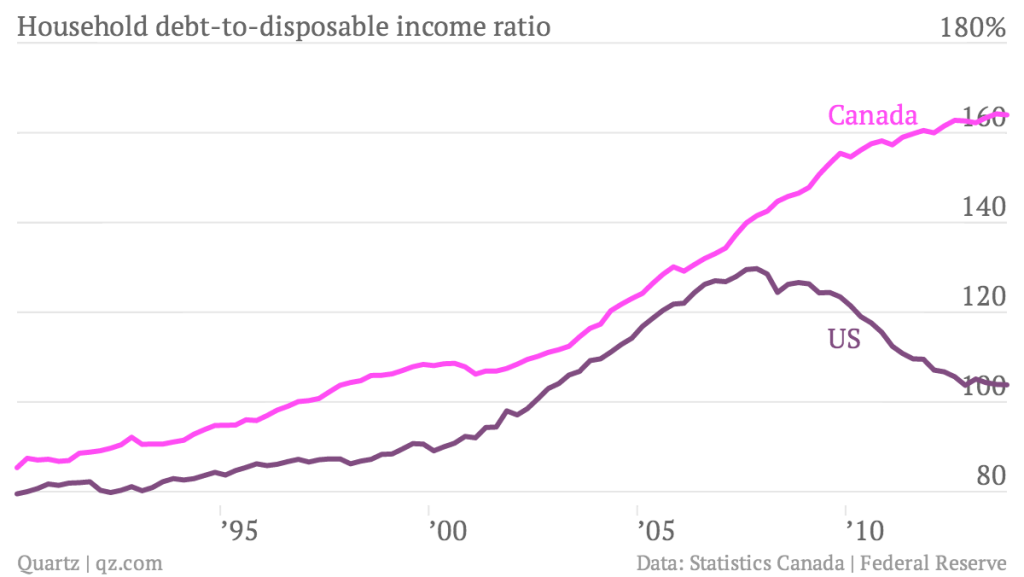 Dealing with debt would mean taking on exploding household debt on the one hand and political primacy given to public debt repayment. (As many have said, this is about the morality and politics rather than the economics of debt.) More generally, it would mean challenging creditors. Capital has at once gone on an investment strike and is looking for other sources of return. This has meant significant funds flowing into consumption goods and services used by households, notably housing.
Capital gets a double boost: it derives profit from, for example, real estate investment as well as from the loans extended to households struggling to maintain standards of living. Here is a doorway to everyday experience, albeit one that must be used deftly as we outside the elites also experience gains here and there from asset appreciation that can be used to divide and conquer (for example, along generational lines).
(2) Increasing social spending
This doorway is also one that leads directly into the question of social spending, another means of furnishing rising living standards. Direct program spending by the federal and most provincial governments has decreased as a percentage of GDP since the 1980s and 90s. The health care system, rather than being expanded into pharmacare and dentistry must be defended from the constant threat of rollback, post-secondary tuition continues to rise and a real public childcare system remains largely in the realm of fantasy. Beyond this, public housing, which could in particular alleviate the debt pressures on households, has been moved off the table as has any sustained program of other public infrastructure investment. This is a wishlist, for sure, but one that until not too long ago was standard-issue social democracy – close enough to be a recognizable memory for older generations, exotic enough to capture the youngest ones.
(3) Generating public revenue
The next question, naturally, is "Who will pay?" It is the obverse of the question asked implicitly in the last two planks, "Who has paid so far?" We have all paid in form of foregone expansions to the welfare state, nevermind anything more transformative. Everyone will eventually need to pay for expanded, universal services that potentially decommodify now-private sectors of the economy but those who have disproportionately benefited from the grand heist of the last decades are the starting point for paying disproportionately more.
Wealth has congealed at the top to an astounding degree and the wealthy have used the power it confers to resist paying for much. In Greece, for example, this has taken the form of an outright tax strike; in Canada, meanwhile, tax cuts have become dogma across the political landscape: everything from the Conservatives' recently implemented income-splitting to the NDP's just-announced small business tax cut, the proceeds of which would largely benefit the very wealthy who use "small businesses" as tax shelters. The result is the "starve the beast" scenario: fewer revenues, fewer expenditures, more austerity, more debt.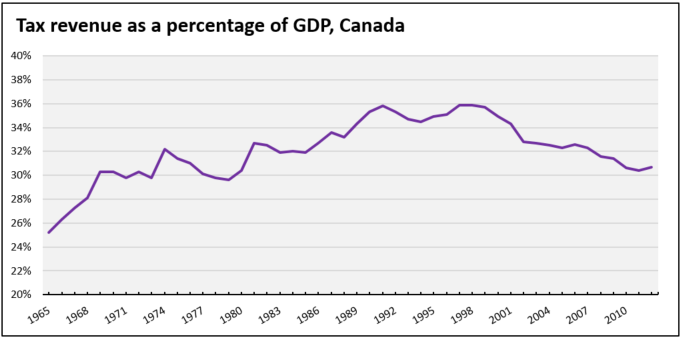 Reversing our steady, lumbering austerity would mean looking at how wealth in Canada is generated, where it is stored and how it can be put to public use. Take, for example, the fact that the abruptly-ended commodity boom has left the province that was its main beneficiary scrounging under the public mattress even as corporate coffers are flush with cash. The exact shape of Canada's elites and Canadian capital needs unpacking – a potentially popular exercise that could be put to good political use. Ultimately anti-austerity means taking on capital, as the Greek anti-austerians are tentatively starting to do.