I wrote up the Conservatives' new balanced budget law for Ricochet. In short, the law is really silly in terms of economics, but simply pointing out its economic stupidity is not enough, because the whole point is to shift the political consensus. Politically, it's not that dumb. So rather than play games about who cut better and balanced budgets faster as many are doing, we need to look at the balance of economic power that drives these moves. The full piece is below:
The Conservative government's balanced budget legislation is a classic attempt to shift the boundaries of acceptable public debate. In terms of economics, it is a silly exercise in arbitrary rule-making and its rules are bound to be broken. In terms of politics, it is another step in consolidating a consensus that puts punitive cuts to the many in the service of ever-larger gains for the wealthy few.
The legislation set to be introduced by the federal Conservatives along with the upcoming budget has been attacked as myopic and the result of twisted logic. Pundits left and right agree that the legislation will be unenforceable and thus unsuccessful in the long run. The problem with the law, however, is the already visible success of those pushing Canadian politics wholesale to the right.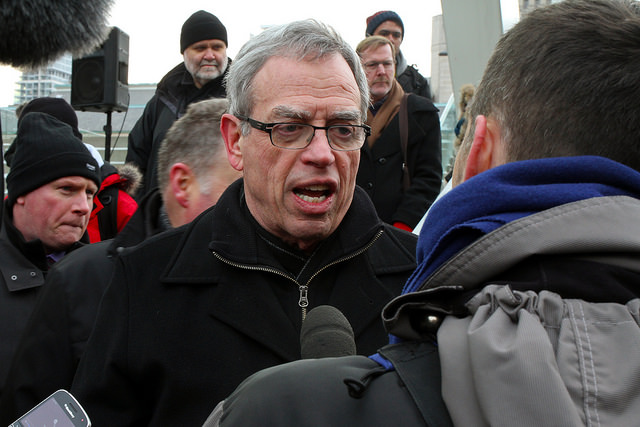 While details are still scant, the legislation aims to force subsequent federal governments to refrain from deficit spending except in as-yet-undefined "exceptional circumstances."
We've seen this movie before. In Canada's largest province, Ontario premier Mike Harris introduced balanced budget legislation only to have it repealed in 2004 and replaced with a softer version that does not stipulate outright balance every year. Most Canadian provinces have balanced budget legislation, but not surprisingly all suspended it at some point in the aftermath of the global financial crisis of 2008.
Even the Eurozone, the current poster child for austerity, has a limit on national government deficits (equal to 3 per cent of GDP) rather than a ban on them. Like other rules of this type, though, the number itself is not as important as the lack of flexibility and the push for spending cuts as the default response to crisis. The Eurozone rule has certainly contributed to Europe's inability to escape stagnation and prolonged crisis since the financial crash — despite being broken by various countries, largely those powerful enough to get away with it.
Arguments like these, however, do not get at the heart of the matter. It's good to have a few of them out there, but balanced budget legislation is most dangerous not because it's bad economics, but because it is good politics.