Here's a familiar trope: immigrants are industrious and hard-working. Here's another, opposite trope: First Nations are idle and lazy. And here's a graph that beautifully calls into question this neat pair of stereotypes.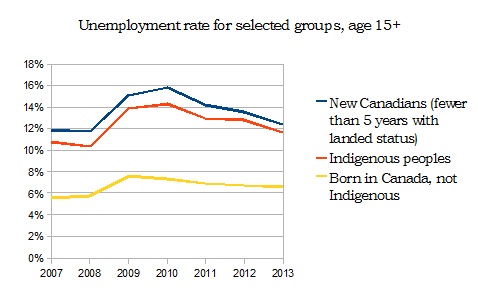 It turns out that off-reserve First Nations workers and recent immigrants face the same unemployment rate – one that is much higher than that faced by workers born in Canada. As Angella MacEwen, who posted this graph, points out it highlights that "there are systemic barriers that need to be addressed" in the labour market.
On the one hand, there is a gaping disconnect between right-wing rhetoric that extolls immigrants and the actual struggles faced by new immigrants. Indeed, the irony is that the right's discourse when confronted with reality brings out the systemic barriers rooted in racism better than the facts by themselves.