Over at Ricochet, I've transcribed my podcast interview with Yanis Varoufakis, economist and Syriza candidate in tomorrow's Greek elections. With Syriza looking to get the most votes and possibly an outright parliamentary majority, I asked Yanis about the Greek economy, Syriza's economic plans, his views on what these mean for Europe and how we can expect Greece to take its place in Europe come Monday. Here is the interview in full.
Michal Rozworski: I know this is an enormous topic but what is the current economic situation on the eve of the elections in Greece? Can you give a kind of snapshot?
Yanis Varoufakis: In brief, everyone owes to everyone, and no one can pay. The banks are bankrupt; they owe money to the state, to each other, to foreign banks. Citizens owe money to the banks and owe money to the state. The state owes money to everyone. So we have a triple insolvency: bankrupt banks, a bankrupt state and a bankrupt private sector. There are of course pockets, like everywhere, within society of people who are really well off. They have money in banks in Switzerland, in the city of London, on Wall Street, in Frankfurt, and even some money in the Greek banks.
But the overall situation is that — even though in the last year or so there's been a small rebound, not in terms of income but in terms of expenditure — the economy is quite clearly still in a downward spiral that is filling everyone's soul with negative expectations.
It's interesting you mention that slight rebound. What I found interesting is that there seems to be a bit of a reversal of 2012. So, on the one hand, now some of the economic indicators have improved in minimum ways, if we can even use that word, but on the other hand, the population seems to be more immune to the fear-mongering on behalf of Greek and European elites against the left. What's changed? What's led to Syriza actually having a chance of gaining a majority in parliament? 
Well, two things mainly. Firstly, Syriza has matured over the last two years; there is no doubt about that. So it has inspired more confidence in the electorate. Secondly, and perhaps even more significantly, now it is abundantly clear that the whole narrative of a "Greek-covery" — if you remember a year ago or so — was just utterly bogus. It was a piece of propaganda, a bubble that burst and Greeks are sick and tired.…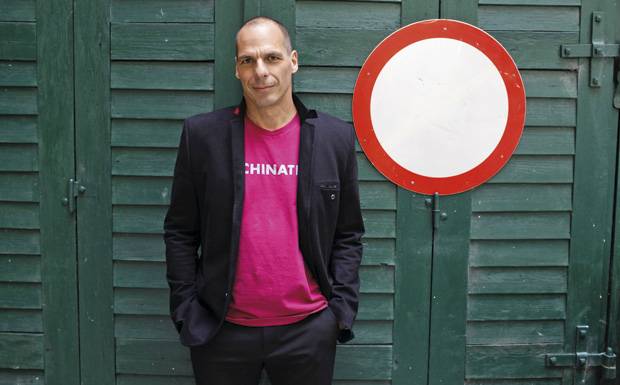 Look, I was in a taxi this morning. The taxi driver said to me — he recognized me as a candidate — "Look, Greeks fall into two categories. There are those who are really scared of losing what little they have left. The rest don't give a damn; they just want to vote in a way that states it in a way for everyone outside of Greece to see that we're not interested in this vicious cycle anymore." (more…)