Last week, Toronto mayor Join Tory announced a plan to toll two major Toronto highways, the Gardiner and the DVP. The city is starved for cash with huge shortfalls for both infrastructure (new housing, new transit lines) and even everyday operating expenses. Tolls are supposed to help close this gap. But despite the absolutely huge revenue needs of this city, there a case to be made against tolls from the left.
There is a simple practical argument against the proposed tolls: they won't raise very much money and any revenue is years away. City planners calculate about $200 million per year of new money once tolls are in place. That may sound like much but Toronto needs are in the vicinity of $30 billion just to catch up with a growing population and ageing infrastructure. And the city needs the money now.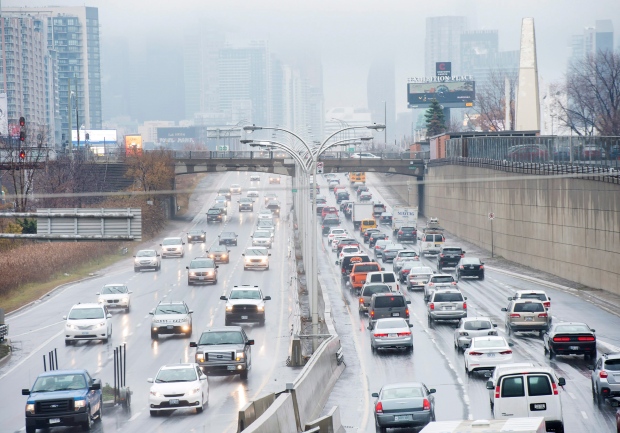 John Tory has challenged those who oppose the tolls to spell out the alternative. Taxing parking spaces would raise $500 million and could be done right away. Getting residential and commercial property taxes to at least match long-term inflation and beat it, even with the necessary rebates for those house-rich, income-poor, would raise another huge chunk of cash. This isn't even getting to more creative options—many of them included in an appendix to a KPMG report commissioned by Metrolinx.
Given the revenue crisis, lefties could easily come up with a viable, progressive money-raising plan even from a list prepared by the market-friendly consultants at KPMG. A municipal income tax? Why not since the province and the feds are raising less then they used to through this measure. Even a municipal sales tax with hefty rebates for low-income and working-class folks. It's not a question of options but political strategy.