There was an odd article last week on the explainer site Vox that argued Sweden doesn't achieve its relative equality with very progressive, "soak the rich" taxation. While Matt Bruenig and Mike Konczal have already provided excellent, US-centred rebuttals to this argument, I thought this would be a good occasion to take a look at some comparative facts about Canadian inequality and overall redistribution.
First, notice that on the chart in the original article, Canada is very close to the US, as being among the "least redistributive". This goes against the national image of a kinder, gentler capitalism more akin to the various North European countries clustered around the middle and top of the chart.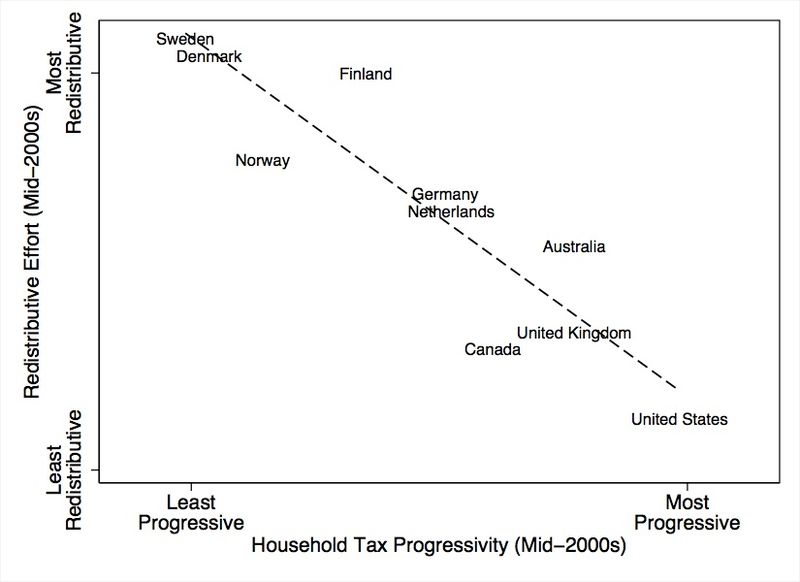 The chart, however, is based on an odd measure of redistribution: the percentage of total income tax paid by the richest households (the Vox article doesn't specify exactly, but it could be this OECD measure of tax revenue paid by the top 10%).  As Bruenig and Konczal both point out, defining the degree of redistribution like this has many problems: for example, it can make a very unequal society with low and flat(ish) taxes appear to be much more redistributive than a fairly equal society with high and progressive taxes. In many ways, the Vox article is simply measuring the degree of inequality in multiple ways rather than relating it to tax progressivity.
In light of this, what does it mean that Canada is right down there clustered with the US as a country that supposedly taxes progressively but doesn't redistribute? Is this something the chart nevertheless gets right? Is it that while Canada is often presented a kinder, gentler state that can be set alongside its Northern European counterparts (themselves no absolute paragons and eroding slowly), the gap between it and the US is really not that wide?